Officially Procured from WVTM 13 Digital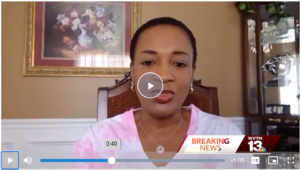 JEFFERSON COUNTY, Ala. —Hours after Kentucky authorities announced the police officers involved in the shooting death of Breonna Taylor would not be charged, many people across the country, including Alabamians, vocalized their opinions about outcome of the case.
In the video above, WVTM 13's Chip Scarborough talks with Rev. Eric Hall and Jefferson County District Attorney Lynneice Washington about their desire for justice in Taylor's case.