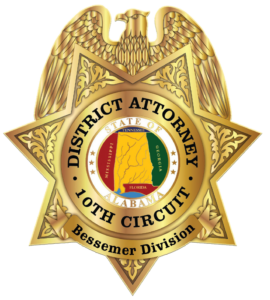 Lynneice O. Washington is the elected District Attorney for the jurisdictional area of Jefferson County known as the Bessemer Cutoff.  Born and raised in Birmingham, Alabama, she is a product of the Birmingham Public School System. However later after becoming an Assistant District Attorney, she planted her feet, married, and raised her family as a proud resident of an unincorporated area of the Bessemer Cutoff. From youth, she aspired to pursue a career as a lawyer and received her bachelor's degree in Criminal Justice and Corrections from Auburn University at Montgomery. She went on to receive a Juris Doctorate from Miles Law School. 
DA Washington began her professional career as a General Law Practitioner. She continued her career as a prosecutor with the Bessemer District Attorney's Office, then, became appointed as Presiding Judge over the Bessemer Municipal Court. Later she served as an Appellate Prosecutor of Irondale Municipal Court and hearing officer for the Jefferson County Personnel Board while maintaining Judgeship for Bessemer Municipal Court.
In November of 2016, she made history by becoming the first African American woman in Alabama to be elected as district attorney. DA Washington serves her community with a passion for promoting public safety, maintaining community trust, and empowering youth for the future.
Since taking office, DA Washington has implemented various initiatives to progress her mission. She is responsible for Operation Python, which fostered her mission to promote public safety. This became the first task force in Jefferson County implemented by an elected District Attorney. Within three months, DA Washington and her team of state, county, local and federal law enforcement agencies removed 126 violent criminals from the community.
She has also implemented the West Jefferson Helping Families Initiative, a crime-prevention effort designed to improve family functioning, child well-being, and educational outcomes. The organization aims to empower families by linking them to resources that support the needs of the entire family unit.
DA Washington spearheaded the first victim's services unit within the Bessemer DA's Office, which assist crime victims navigate through the legal system and receive the support needed in attaining justice. She has also created a cold case unit within the DA's Office and DUI Diversion Program in District Court.
Beginning January 11, 2021, District Attorney Lynneice O. Washington will launch the Conviction Integrity Unit (CIU) as part of the Jefferson County District Attorney's Office, Bessemer Division, to remedy wrongful convictions within her jurisdiction. CIU is the first wrongful convictions review unit in the state of Alabama.
Throughout her legal career, DA Washington has served in a number of legal and civic organizations. She's member of the Bessemer Bar Association; member of the Metropolitan Criminal Justice Executive Association; member of the National Black Prosecutors Association; Executive Board member of Crime Stoppers of Alabama; member of NOBLE (National Organization of Black Law Enforcement Executives); Board member of VOCAL (Victims of Crime and Leniency); Board Member of the ADAA Foundation, Inc. (Alabama District Attorney's Association); serves as Advisory Board Member with Brenda's Brown Bosom Buddies (BBBB), a cancer awareness organization; member and Past President of the Bessemer Rotary Club; serves as a mentor with the P.I.N.K. Program which is an extension of the Bessemer Business Professional Women's Organization, and other organizations.
DA Washington has been presented and honored with many accolades for her servant leadership – to name a few: 2018 VOCAL (Voices of Crime and Leniency) award for Prosecutor of the Year; 2019 Boy Scouts recognition for "Heart of an Eagle" award; 2018 NOBLE (National Organization of Black Law Enforcement Executives) Distinguished Service recognition, "Significant Contributions in the Community award"; 2018 Delta Sigma Theta Sorority Inc. award recognition as speaker for the Servant Leadership Social Action Luncheon; 2017 Rainbow PUSH Coalition recognition, Crusaders for Justice Award for Excellent Service in the Community; 2017 SCLC Martin Luther King Keepers of the Dream Award.
District Attorney Lynneice O. Washington commits to continuing to serve her community at her fullest capacity. As an elected official, she works to leave a permanent footprint for positive change in the community as well as the Jefferson County's District Attorney's Office, Bessemer Division.